Have you ever heard of Puj Tubs? Seriously,the COOLEST baby bath tub yet. It is a perfect replacement for those big old baby tubs. I just tried it with beck, and it is amazing! It is extremely light weight and stores completely flat. If your like me, and live in a small place with ZERO storage, this tub is for you! I hang it on a hook in my shower. Seriously a dream, compared to the old ones.
I remember trying to bathe ivy in a tradiitonal baby bath, having to hold her her up with one arm, and using my other arm to bathe. However, the puj tub supports your baby in an upright position allowing you to use both of your hands. The material that they use is awesome, it forms to his body, so he's not sliding around like a slippery fish. It is also insulated so that it stays warm. Beck loooovves his bath time, and I am pretty sure it has a lot to do with this tub.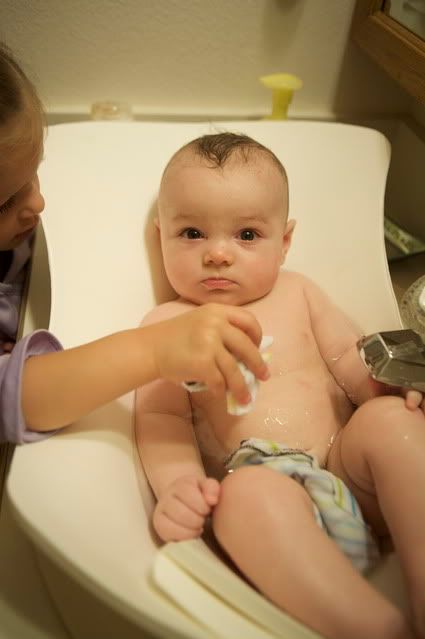 Our bathroom sink is tiny and pretty outdated so the tub is a little too big for it. I have still been using it everyday, I just have to clog one of the drain holes (the ones that keep it from overflowing) so that the water doesn't go all over my floor. However, I tried this out over at my mom's (who has new updated sinks) and it worked perfectly. You have got try this out! You will not be sorry.

Check out this video so you can see the tub in action!

I would definitely recommend this tub to everyone with a newborn baby (0-6 months). Would make a great baby gift too since everyone needs a baby bath tub right!?

Check out the Puj Tub for yourself at the new web site exclusively for
baby bath tubs
!